Your Web browser is too old, Dareboost may encountered issues. We recommend You to use a more recent browser.
Website Speed Test and Website Analysis
Test, analyze and optimize your website performance
An insightful
audit

of
your

website's

quality
for better

performances.

Dozens of optimization tips. Automatic, easy, effective.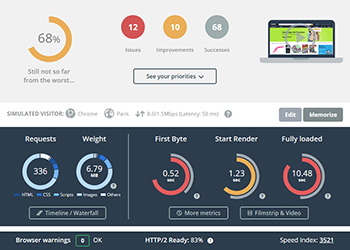 Web Performance Monitoring
Without any installation, we continuously analyze your web pages to detect quality and loading time issues. You can see the evolution of your pages' major performance indicators on your dashboard at any time. We'll also send you weekly, emailed reports
Website Speed Comparison
How does your website rank in comparison to your competitors? If your site is 20% slower, its loading time will be noticeably different to your users. Dareboost can make sure that your loading time and the quality of your website is an asset rather than an obstacle to the users' experience.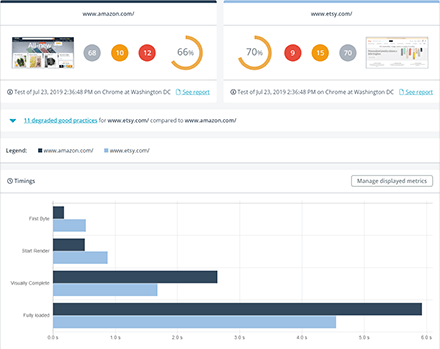 « Vital aid for front-end performance monitoring »

Alex Logvynovskiy, Front-End Developer, Search team, Rightmove

We use Dareboost as a synthetic monitoring tool to oversee the front-end performance of our core pages.

For us, user experience is paramount and Dareboost provides the right balance between technical and business insights, with helpful health-check overviews for product owners and sufficiently detailed data for developers.

Among Dareboost's strongest features are granular testing frequency, customisable network conditions (desktop and mobile), performance budget alerts, side-by-side comparison between tests and interactive performance graphs. Their customer support deserves a special mention.