Website Comparison Speed Test
Is your website faster than your competitors'?
Benefit from the comparison feature of our powerful web performance and quality analysis service. You will be able to benchmark your website and your competitors' as well as to compare your own web pages' results depending on various conditions (location, bandwidth, and so on).
Dareboost provides an outstanding range of comparison options and visually-pleasing graphic reports in order to easily identify the main differences and weaknesses needing to be fixed.
An exclusive tool that will fit all your benchmarking needs.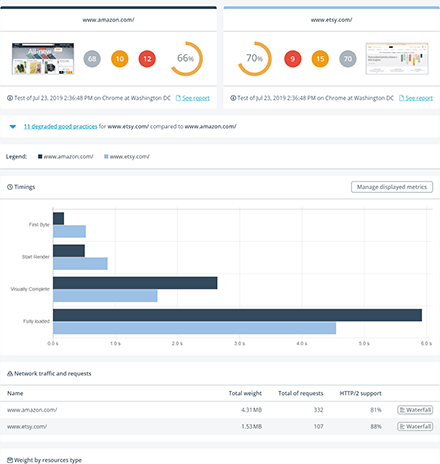 No subscription needed, launch you first comparison for free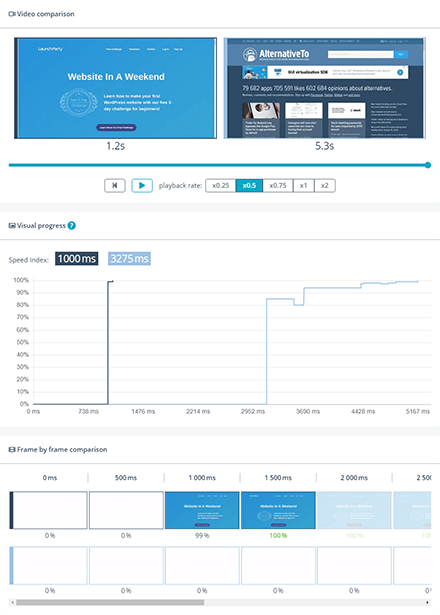 Comparison: a core Dareboost feature
Comparisons may be launched in a single click by simply entering 2 URLs. Our comparison reports feature the usual Dareboost metrics: quality score, speed index, server response time, and so on. In the blink of an eye, you will know which web page is faster. For deeper analysis purposes, we also provide advanced settings and detailed reports.
Comparison is a core Dareboost feature: each time you receive a monitoring alert, a comparison report is automatically generated in order to highlight the changes. You can also produce a comparison report at any given time based on any previous stand-alone analysis.
Various comparison scenarios
Dareboost gives you access to 3 basic use cases: challenge 2 competing web pages, compare the performance of a single page in mobile versus desktop environment, and evaluate the browser cache efficiency of any webpage (repeated view).
Take comparison to next level with our advanced settings: highlight the specific impact of third parties thanks to our blacklist option, compare your results under 3G and 4G networks, test your website's speed from 2 different locations to measure the impact!
Naturally, you can also use our comparison reports as a "before/after" approach to highlight the results for your optimization efforts.
Comparison reports:
ready to share and to export
Like for our traditional audits, the comparison reports generated through Dareboost may be shared in just one click with any of your collaborators, customers or service providers. This applies to the web version as well as to the PDF one.
Our White Label option allows you to customize the PDF reports with your company logo and thus create an amazing deliverable in just a few seconds!
Video recording: let's play back the fight
With Dareboost, you may play back the loading video of the 2 tested web pages. This feature is particularly interesting to visualize web performance through your user's eyes, without having to look at the technical indicators.
Our comparison reports also feature a filmstrip view to compare the web pages' display step by step.
Join our 450+ Pro customers and start optimizing your website now