Website Speed Test with Dareboost
Measuring Web Performance has never been so easy
Dareboost provides an installation-free, single-click service to test the speed of any given web page. More advanced than a regular bot, our Real Browser Testing service (based on Google Chrome) allows you to run highly configurable and realistic tests reproducing the exact same conditions as your real-life users.
Get access to a full range of metrics and data related to front-end performance and quality as well as User Experience (UX).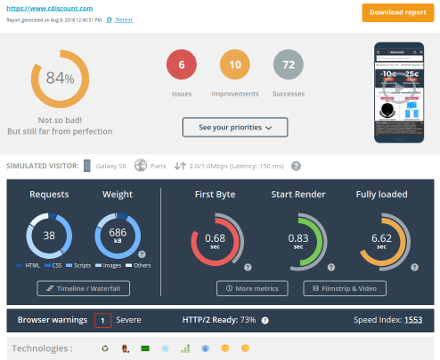 No subscription needed! Launch for Free your first web performance test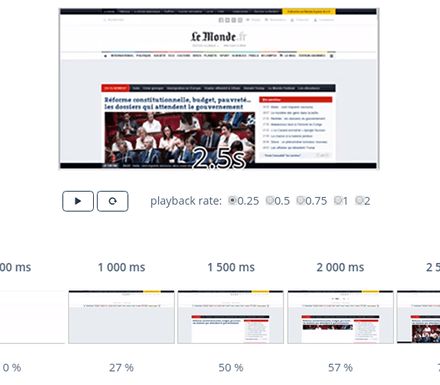 Video Playback, Filmstrip and UX analysis
Our test reports include not only all the necessary technical metrics for a full diagnosis of web quality, but also key indicators related to UX.
Through a video analysis of your web page loading, Dareboost computes 3 indices: Start Render, Visually Complete and Speed Index, which are widely considered to be the most relevant metrics when it comes to web performance as experienced by users.
To get an even more accurate view of your page loading, our reports feature a playback functionality that allows you to play back the loading video, as well as a filmstrip view to analyze each step of the page load.
Greater insight on web performance: Waterfall, Timeline
Beyond the main web performance indicators, our reports also provide the necessary tools for web experts. Our Waterfall (Timeline) feature displays the loaded requests and HTTP responses and allows you to check the sent and received headers.
Our reports also feature the results of the Performance.Timing API in order to fully understand the loading process of your web page, with events regarding DOM loading (domInteractive, domContentLoaded, domComplete, etc.).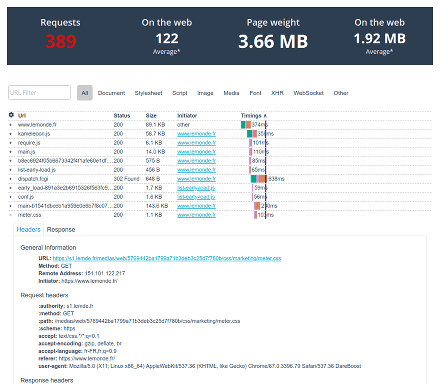 13 testing locations across the world
Catering to an international audience? Dareboost has an extensive list of 13 test probes throughout the world so that you may test your website's speed from various international areas: Hong Kong, London, Paris, Washington D.C., and many more… Check the complete list of our test probes to discover them all.
Looking for a specific location? Ask us for a private test probe access.
A highly configurable testing environment
From screen resolution to bandwidth or latency, we developed a tool that gives you the freedom to set various testing conditions and hence replicate the very browsing conditions of your most strategic categories of users.
A series of advanced settings such as HTTP headers injection, AdBlock enabling or blacklist option will help you reproduce the most specific use cases.
Join our 450+ customers and don't wait any longer to speed up your website