Synthetic Web Performance Monitoring
Website Speed Monitoring made simple
Your website never stops evolving and requires you to deal with an increasing number of third party services. This is one of the reasons why you need to constantly monitor your website's performance and technical quality.
Dareboost is the very first service to provide web quality and performance monitoring in a single tool with an easy-to-use interface for the whole team.
Comprehensive records of your web performance data, root cause analysis for slowdowns, alerts based on custom thresholds (performance budget) and detection of quality drop: a single tool to fulfill all your needs.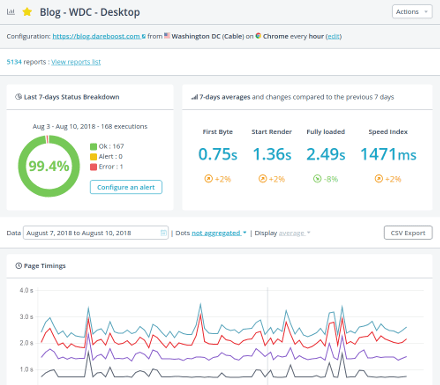 Discover our synthetic monitoring tool - no installation needed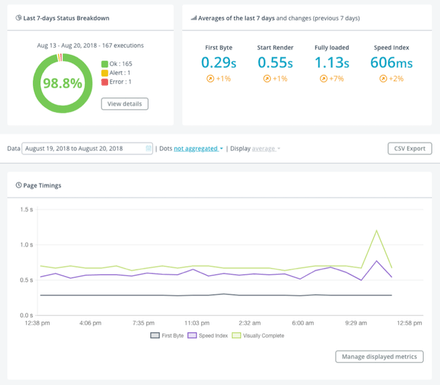 Keep track of your performance
with our dashboards
Thanks to our synthetic monitoring technology, you will benefit from all of our website speed test settings, from probe location to bandwidth limitation. You can define monitoring frequency (24hrs, 60min, 15min) according to your own needs and budget.
You may access your monitoring data at any time through a simple, neat and customizable interface made available to your collaborators through our multi-account feature (including read-only access).
All test reports remain available for detailed analysis.
Custom alerts and performance budget
Easily detect any slowdown or drop in quality thanks to our powerful warning system. Set up your own thresholds to be checked against the performance metrics of your choice and define the suitable recipients amongst your own team members or service providers.
Your website suffered an incident? Perhaps a slowdown? An alert is triggered as soon as the issue is confirmed through our false positive elimination system. Each alert is sent with a before/after comparison report to identify the exact cause of the issue.
The perfect tool to set up and implement your performance budgets.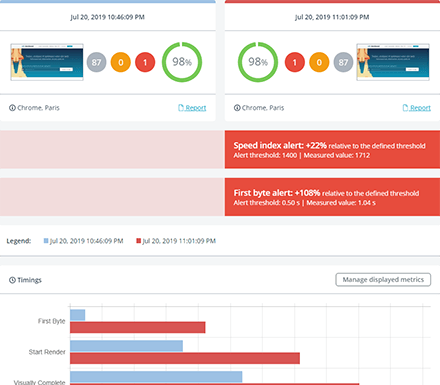 Monitor your competitors,
create groups
Explore your data through new perspectives by creating as many groups as you wish in order to visualize your monitored web pages.
Competitor analysis and benchmarking, page-gathering based on project, single-page performance comparison based on browsing location: the group feature gives you access to unlimited use cases!
CSV data export or API
In the event that our custom dashboards and weekly reports do not fulfill your needs, you can still export your monitoring data in a CSV file in a single click.
Our API also grants you access to your data, to be used with your own tools, as well as the possibility of automatically creating custom events in your dashboards (i.e. to keep track of your deployments and outages).
Join our 450+ Pro customers and start optimizing your website now